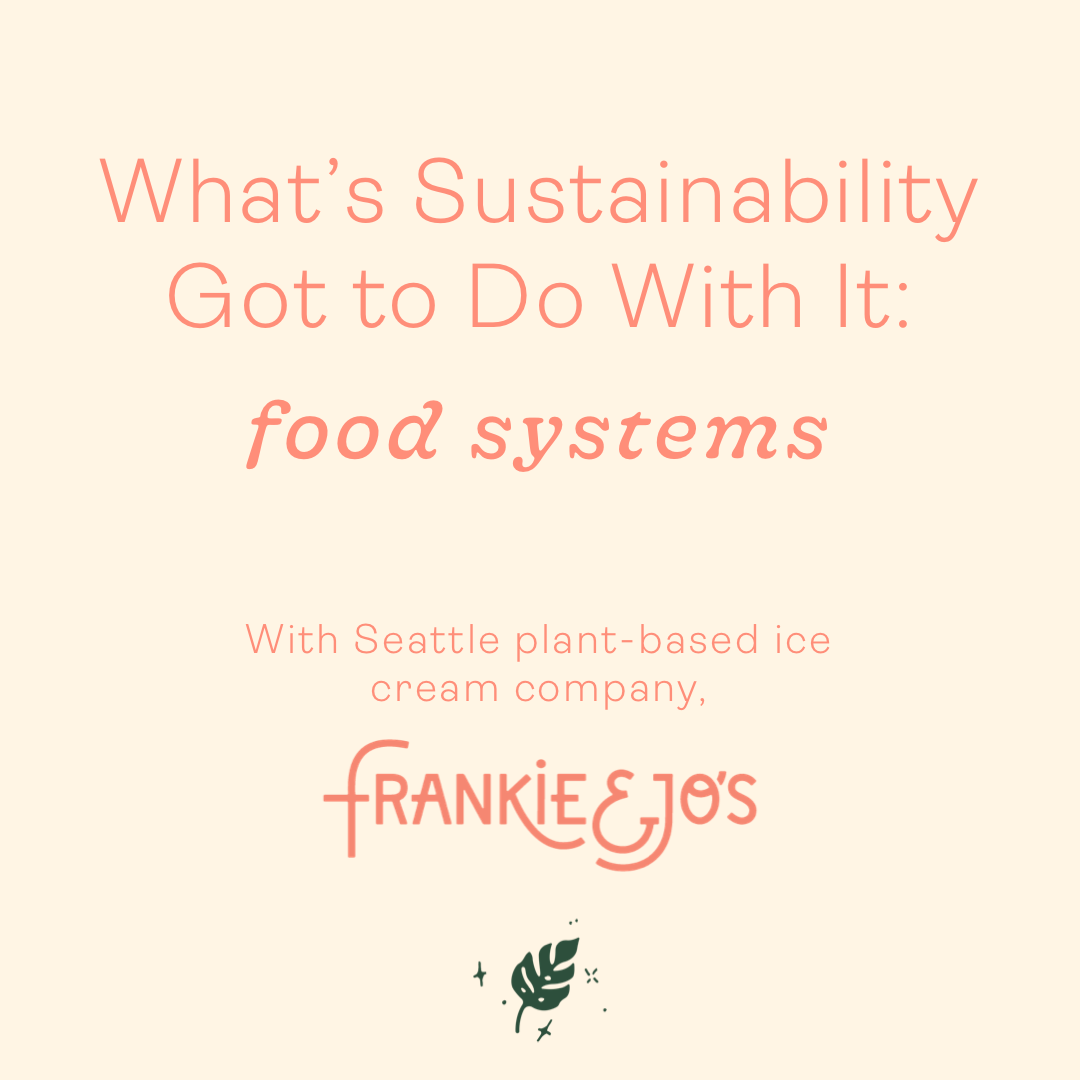 For Frankie & Jo's, plant-based ice cream is a vehicle for radical change.
Sustainable Thoughts by Jac Sussman
Practicing true sustainability requires a whole-systems approach to strengthening social, ecological, and economic vitality for current and future generations. Founded in 2016 by Autumn Martin and Kari Brunson, Frankie & Jo's is a women-owned ice cream company that fully embodies this vision, setting ambitious goals to lower their carbon footprint, enhance the financial stability of their employees, and uplift those in the community who have been most impacted by environmental and social inequities.
Certified B Corporations are businesses that meet rigorous third-party standards for social and environmental contribution, public transparency, and legal accountability to align their profits with positive societal impact. Even before they became a B Corp company, Frankie & Jo's was already demonstrating how small businesses can operate in ways that provide a net benefit to their community and the environment.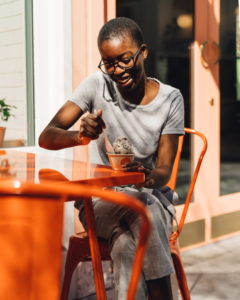 Conscious of the vast, rapidly growing economic disparities in Seattle, Frankie & Jo's is making material changes to increase the financial stability of their team, through such policies as reimbursing employee bus passes and bicycle parts with their sustainable commuter benefits program, and providing a $20 per month allowance to spend on anything related to self-care. Team members are recognized and rewarded for their efforts, commonly being promoted from within to more advanced positions throughout the company. Kelsie Coker first joined Frankie & Jo's as a part-time baker and was promoted to Administrative, Logistics, and Sustainability Lead, helping the company meet its many environmental and social goals. Natalie Vanhoever started scooping up the flavorful plant-based goodness for customers and is now Frankie & Jo's Marketing Manager.
Frankie & Jo's regularly promotes and partners with other women and BIPOC-led businesses, organizations, and artists across Seattle and the Puget Sound region. Those in leadership roles go through DEI training and are actively propelling a more inclusive and equity-focused workplace through both company culture and policies. "I think we just gravitate towards [partnering with women and BIPOC-led businesses], but it's also part of the ethos of our company. It's naturally a part of our culture," says Natalie.
Holding an unwavering dedication to reducing their carbon emissions as swiftly as possible, Frankie & Jo's has committed to reaching net zero by 2050, in accordance with the Paris Agreement. This goal requires them to find creative solutions to cut both upstream and downstream emissions as a business in the food industry, where food waste, global transportation, and excessive food packaging are pervasive setbacks to operating sustainably.
With a key priority on eliminating food waste altogether, the company is working with local no-cost meal services and food banks to donate all of the surplus cookies, brownies, and pints that would otherwise be directed into the compost bin. They also work closely with suppliers and hold them accountable in meeting Frankie & Jo's high environmental and social standards, sometimes making the tough decision of switching to vendors who are more aligned with their goals and ethos. The company purchases carbon offsets for areas where carbon emissions are currently unavoidable as part of running any successful business, such as with shipping for their pint club subscription service (for which they've offset nearly 100% of emissions).
Try as they might to reduce their carbon footprint, conventional ice cream companies face an uphill battle when their products are dairy-based. According to the UN's Food and Agriculture Organization (FAO), cattle raised for milk are responsible for approximately 20% of the global livestock sector's GHG emissions. As a species, cows represent roughly 65% of the entire livestock sector's emissions and are the largest source of agricultural GHG emissions worldwide.
Those who sample the delectable alchemy that is Frankie & Jo's ice cream are often in disbelief that the treats are entirely dairy-free. Frankie & Jo's recently switched all of their ice cream from a homemade cashew and coconut milk base to their homemade oat milk base, after realizing that they could reduce GHG emissions and cut down on water usage in their kitchen, while also improving ice cream flavor and texture consistency. Their method for making oat milk has substantially reduced water usage that was previously required to make their cashew milk base. For comparison, every pint of dairy milk requires approximately 120 liters of water to make, while cashew milk requires 68 liters of water per pint, and oat milk only 10 liters of water. On average, a pint of oat milk generates less than a third of the greenhouse gas emissions released to make a pint of dairy milk. Frankie & Jo's continually pursues sourcing the most sustainable ingredients available, and understands that enduring sustainability requires an ongoing journey towards complete decarbonization.
Exemplifying the principles of a circular economy, Frankie & Jo's seeks to decouple profits and financial growth from an extractivist business model⏤instead working towards becoming zero waste and contributing to building a more equitable and resilient community. Frankie & Jo's donates a percentage of sales annually to social justice organizations around the city, and partners with numerous food banks and meal services, including Black Mamas Matter, El Centro de la Raza, Mary's Place, The Seattle BIPOC Organic Food Bank, and YouthCare.
Achieving B-Corp certification in 2020, Frankie & Jo's was ready to be held accountable to the highest of standards for all of their sustainability targets.
"We continuously work to be better," says Frankie & Jo's sustainability lead, Kelsie Coker. With their B-Corp recertification less than two years away, the team is striving to meet their goals ahead of time. "We want to show that we're doing the work."