Q2 2020: community/access/data
Sustainable Thoughts and In Sight by Photy
Community knowledge is a social technology.
Have you noticed any of our prompts coming up these last few weeks?
S2's Resiliency Response Project uses participatory-data research and hyper-local engagement tactics to build regional resiliency and resources for those most impacted by crises like COVID-19 and climate change. The following opinion piece is a direct analysis of findings from the past quarter. Based on the conversation we had with our guest expert, Valeria Valdez, from our last S2 ON AIR and the input from our community, we noticed a common theme: social infrastructure is a powerful tool in building resilience and strategies to tomorrow's challenges.
The consequences of COVID-19 are part of a larger environmental story. Weird and nasty disease outbreaks are ultimately accelerated by environmental degradation and climate change. To add on top of that, the US's failure to respond, act and provide the infrastructure needed to combat the pandemic led our country to hold the record for most cases and deaths. Almost unsurprisingly, June 30th marks the highest single day of cases nationwide ever (and we are still reopening). Like climate change, despite our individual efforts, they fare sparsely with these very consequential actors at play. Cough, cough, our administration (that was not COVID-19, just a call out).
Although we cannot always predict the next crisis, it is due time that we set new priorities. History reveals both humanity's failures and solutions; as we navigate this crisis, we are required to develop new and better strategies for the next.
Over the last few decades, modern technology and product innovation have been more reactionary than preventative to issues facing our world. We have been conditioned to solve existing "pain-points" with short-term technological fixes. We can no longer just respond to our own consequences as technology advances exponentially. To create long-term change, we ought to develop a new paradigm of technological thinking that embraces the biological and social systems as well. More than just human-centered design, we need design built for bettering humanity.
The failures of today actualize that 'business-as-usual' is an engine that works to our own demise. Our "throwaway" consumer culture has over-saturated our own creativity. Lost in short-term material fixes, we often dismiss the substance of interpersonal relationships and community.
The Resilience Response Project is showing us that community knowledge IS a social technology. Connectivity and cultural shifts expand our innovative thresholds. Instead of searching for the next big material fix, we should be looking towards the socially generated solutions active and growing each day. But is that enough to create systemic change?
Well, that is just it: no solution is enough on its own. But without equitable practices and the prioritization of people, no technology will be viable long-term. Ultimately, access to research and data is the clearest pathway to understanding and developing solutions to systemic issues. Data is the modern storyteller: tracking variables over a period gives us the ability to identify trends and correlating factors. The Resilience Response Project allows us to critically examine priorities at an individual level as well as expand our scope for action at a regional level.
If we seek climate solutions, if we rally for sustainable infrastructure, we must create sustainable relationships between businesses, technologies, policy, and people. Recognizing and understanding the basis of our humanity is the groundwork for any structural change.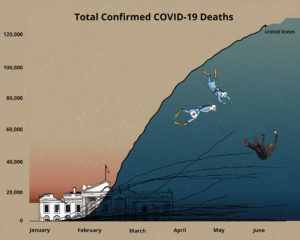 community/access/data.
Data is a powerful tool to broaden our understanding of systemic issues. Storytelling, on the other hand, restores the humanity back into the numbers.
For this "In Sight" reflection of our second quarter of 2020, "Data / Access / Community", I wanted to bring those two ideas together. I took the three most pressing issues on everyone's mind: the human rights movement, the pandemic, and climate change. By illuminating imagery on all three issues, I want viewers to see each piece simultaneously. I challenge viewers to explore the narrative behind the numbers and in turn, consider how these issues are intricately tied to one another. If one set of data is startling to you, the other two should be as well. –
The community/access/data triptych are available as poster and postcard prints in the Community Market. Proceeds benefit S2 community programs.
Photy
My interdisciplinary work in the arts, education and environmental studies has heightened my capacities as an effective environmental communicator. My goal is to utilize my specializations to build a more sustainable society by bridging the gaps in environmental discourse through creativity and research.