The Heart of Sustainability – Ming Ming Tung-Edelman
Each year Sustainable Seattle hosts the Sustainability Leadership Awards, also known as Campfire Stories, honoring leaders in sustainability. Communities are encouraged to nominate the sustainability leaders that they feel have a strong impact. These nominations are then voted on by an adjudication committee of people that represent the diversity of Seattle's sustainability experts, and thinkers, in order to select the honorees. This year leaders were nominated based on their contributions to one of four major thematic categories of sustainable practice in the Seattle area, which were determined through a community0based participatory research project in Winter 2020-21: The Heart of Sustainability, Home for Good, Food & Gratitude, and Policy for People.
Every year the group of community leaders is an outstanding representation of all of the hard and inspiring work that is being done by sustainability leaders in frontline communities. While and honoree was selected to represent the thematic category, all of the community leaders were recognized for all of their contributions.
The Heart of Sustainability is centered around the guiding principles, morals, and values that inform our decision making. The community leaders for this category were
Eric Opoku Agyemang & Amanda Kim

Charlotte Cote, Ph.D

Emily Pinckney

Piña Soul, SPC

Facilitadores de Reciclaje

Lauren Brohawn
The honoree for the Heart of Sustainability is Ming Ming Tung-Edelman, the founder and ED of Refugee Artisan Initiative. As an immigrant from Taiwan, Ming Ming understands the challenges refugees and immigrants face. She wants to connect these women with the skills they have and opportunities to earn income to provide for their families in America. RAI combines Ming Ming's compassion and her love for fashion and sustainability. Her dream has come true to create the RAI circular and equitable economy: keep textiles out of landfills while creating jobs for refugee and immigrant women.
Please read the story below that Ming Ming shared at the Sustainability Leadership Awards.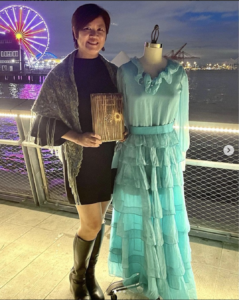 "Whenever people ask 'What has inspired you to do this work?' With no hesitation, I said: 'Ama', grandma in Taiwanese. A woman with rudimentary education who lived in a small village in Taiwan. Ama was able to put food on the table to raise my mom and my two uncles as a home based seamstress after her alcoholic husband died young.
Ama sewed many matching outfits for me and my late sister Mingi-Yen, who is a year younger than me. We look practically like adorable twins in matching plaid suits, Chinese Qipao jackets, floral summer dresses, and countless other looks. There was always the sounds of her foot pedal sewing machine in her house, as she worked away making customized garments for ladies in the neighborhood.
When she learned that my family would be leaving Taiwan to move to Saudi Arabia in a couple months, she took measurements of my sister and me. She then took out two rolls of chiffon fabric she had carefully stored away for years, one turquoise and one crisp apple green, and intently began to make us dresses. As you can see here, chiffon is one of the toughest fabrics to sew as it's extremely delicate, snags and breaks easily when sewing. Still to this day I don't know what compelled Ama to make me such a fancy ruffle dress. Perhaps it was a good-bye gift to me as she passed a few years later and I never got to say 'good-bye'. Perhaps it was her dream for me as a teenager to wear it to a formal dance in a foreign country. I did wear it at my middle school graduation in Saudi Arabia and was the fanciest graduate with many staring eyes.
With two global moves from Taiwan to Saudi Arabia and America, this dress came with me. About nine years ago, my daughter Anna ever wore it for a family reunion dinner in Taiwan. The dress had traveled around the globe with me and my family.
Today this dress is on this model at the display window of Refugee Artisan Initiative, as a guide and inspiration. Ama has taught me what it means to give a woman tools and skills to become self-sufficient and financially independent. As an immigrant woman, it's my way of giving back and paying it forward. I feel incredibly honored to be working with 25 talented women artisans in our program from all over the world resettling in Seattle during the past five years … Burma, Ethiopia, Afghanistan, Morocco, Bhutan, Vietnam, and China.
One artisan, Diba, mother's five from Afghanistan, her story really stood out … as an example of heart of sustainability.
Diba and her family escaped the Taliban not once, but three times in a span of over 20 years. Her family escaped to Iran then Turkey as refugees during the first Taliban attack. When the US occupation of Afghanistan occurred, the moved back, had some stability as Diba's husband worked in generator maintenance at the US military base. However, with Taliban's violence against its citizens rising, the family did not feel safe, again escaped to Turkey about seven years ago. They finally applied for refugee status to be resettled to the United States. Diba, her husband Abdul and five children aged 3 and 21 finally made it to Seattle as home 4.5 years ago.
Diba's job prospects in America was grim: little and no education, not speaking English, not able to drive and five children to care for… Until she connected to RAI 1.5 years ago.
You see… Diba is a self taught sewer and crafter and quick learner like Ama. She sews and knits most of her clothes and many other clothes for her family. Her sewing skill came in handy at the beginning of the pandemic where there were no masks to be found. Diba along with another 11 RAI artisans sew over 80,000 masks from home, repurposed from donated clean unused bed sheets from Amazon returns. Their work helped to protect healthcare workers, metro bus drivers, prisoners, postal workers, and countless others.
Diba made her her first paycheck in America from our program and more. Three months ago Diba came with her husband and showed me and my staff a car she just purchased for her husband, so he can have a better car as an Uber driver. Despite her busy home life and sewing/knitting projects, Diba finds time to show appreciation. She often brings the Afghanistan salty cake she makes, and one time we had an Afghan feast with three giant trays of Afghanistan steam dumplings and honey cake. She made a separate gluten free aromatic chicken dish for one of my staff when she learned about her dietary restrictions. Out of nowhere one day, Diba presented me with this beautiful shall that took her over 10 hours to knit… saying how thankful she is to be part of RAI family.
Early last month, Diba flew back to Afghanistan with her nine-year-old daughter to attend her sister's wedding as she has not seen her for over a decade. She would return on 8/17, the day after the Talilban took over the country. The thought of Diba's husband with her four sons here alone without Diba and her daughter Yalda was unthinkable! Our entire team at RAI knew we needed to take action to get them out and safely back home before anything happened to them.
We reach out to WA State representatives Congresswoman Pramila Jayapal and Kim Schrier for help to get Diba, her daughter, and Diba's oldest son's wife out of Afghanistan. Despise multiple failed attempts to get them to the Kabul airport, we persisted until we were finally able to get them on a plane. Their plane took off hours before last week's deadly attack at the Kabul airport. Their safe return is a true miracle.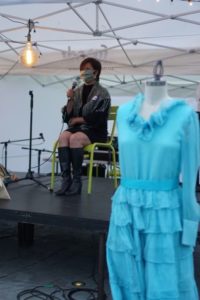 So what does Heart of Sustainability mean to me? On two levels:
1. Organizational level: Practice circular equitable economy by diverting unwanted textiles while creating jobs for refugee and immigrant women.
For example: Our artisans turn unwanted clean bed sheets into masks and now medical scrubs with mask demands being down. Turn empty coffee bean burlap bags into beautiful baskets and wine bags.
2. Personal level: Show love and caring in the most authentic way that results in meaningful actions.
My Ama showed it through this amazing dress now a family heirloom!
I show it to Diba through providing her pathway to become self-sufficient and help to bring her home safely from Afghanistan.
Diba shows it through her delicious Afghan food she shared with RAI and this shawl now keeps me warm.
Through these authentic interactions, lives changed and legacy lives on. I can feel Ama's spirit as she is smiling from heaven. "