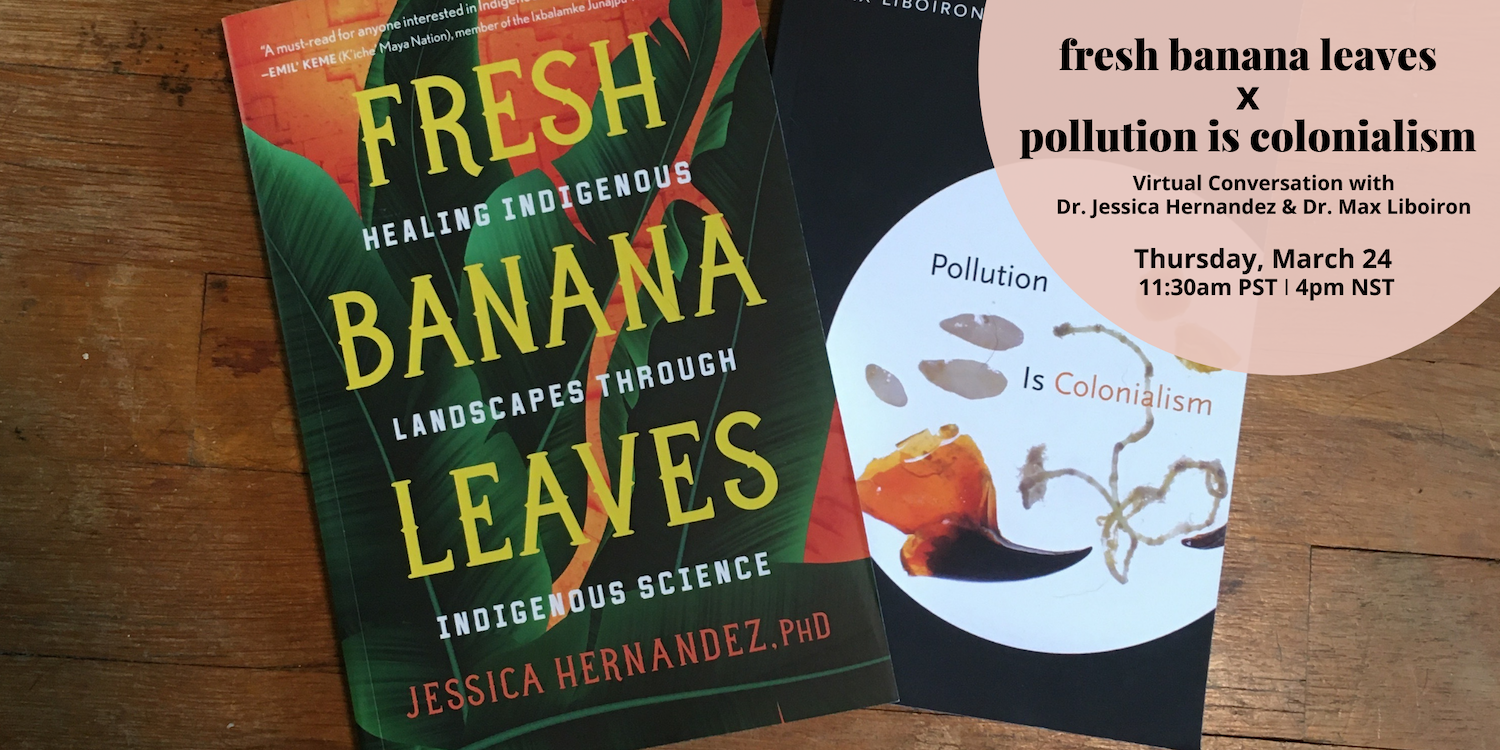 Fresh Banana Leaves x Pollution is Colonialism
Sustainability is not a new state of the world for us to invent – it is a natural state of being long established by Indigenous cultures which we must work to repair, restore, and protect.
The work of sustainability is part-and-parcel to restoring and repairing right relationships with Indigenous Peoples and cultures, and undoing the extractive harms of colonialism and rampant industrialism that have led to ongoing complex crises of environmental and human harm.
On March 23, two Indigenous scholars, advocates, scientists, and authors, Jessica Hernandez (Fresh Banana Leaves and S2 Board of Directors) and Dr. Max Liboiron (Pollution is Colonialism), engaged in discussion about the teachings of Indigenous science and the essential role this knowledge system plays in restoring sustainability to all people and land, beyond borders. Board members Jasleena Grewal and Jamilah Williams moderated the discussion.
About the speakers
Dr. Jessica Hernandez draws from Maya Ch'orti' family in El Salvador and Zapotec family in Oaxaca, Mexico, and an upbringing that's taken her to doctoral interdisciplinary work that itself addresses interdisciplinary, holistic relations, from marine science to forest study.
Her work has figured in both academia and in community, including founding an environmental consulting and aretsanias hybrid business, Pina Soul SPC, and as a member of Sustainable Seattle's Board of Directors where she helped the organization establish a special fund for Indigenous Leadership and has hosted several discussions about trans-national Indigenous knowledge on climate change.
Dr. Max Liboiron is a leader in both developing and promoting anticolonial research methods into a wide array of disciplines and spaces. As founder of CLEAR, an interdisciplinary plastic pollution laboratory whose methods foreground humility and good land relations, Liboiron has influenced national policy on both plastics and Indigenous research, invented technologies and protocols for community monitoring of plastics, and created protocols for fostering research collectives.
Dr. Liboiron's book has been a resource for Sustainable Seattle in pre-development work around local community-led initiatives addressing pollution and policy.
Jasleena Grewal, a member of S2's board of directors, is a community member specializing in behavioral health and environmental methodologies in healing from trauma. Jasleena will moderate the discussion, along with fellow board member Jamilah Williams, a community organizer and assistant director at UW College of Built Environments who will moderate community comments and conversation via chat.